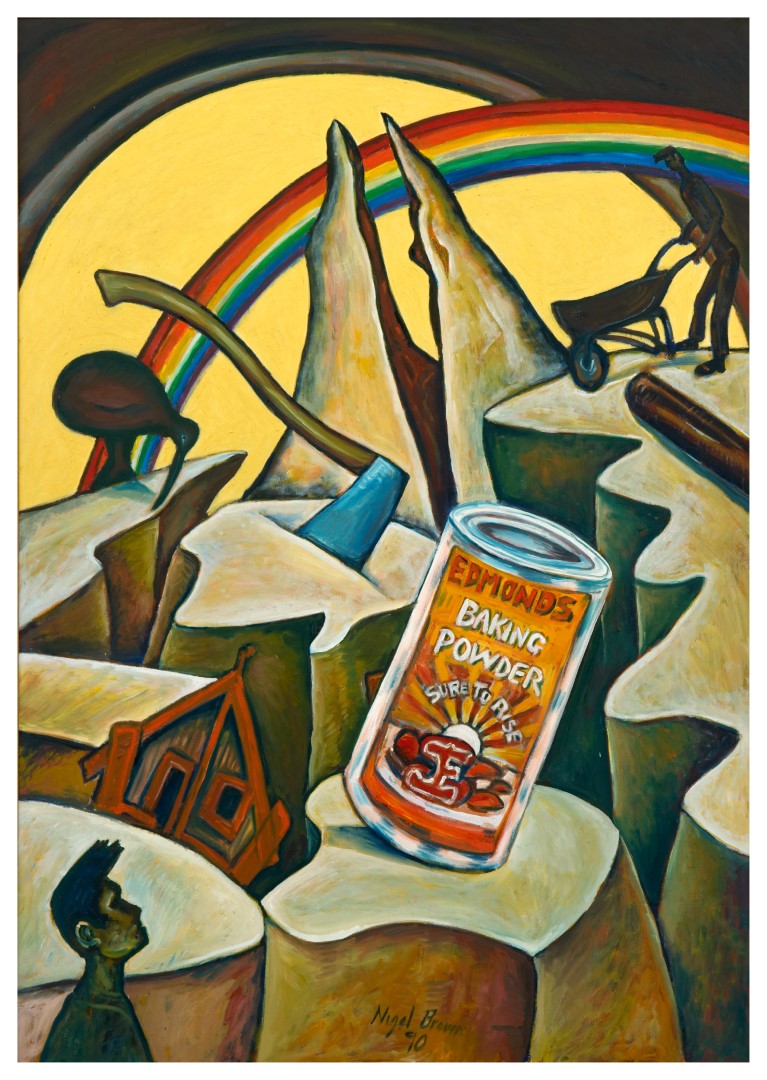 A touring exhibition of artworks spanning the thirty-five year career of one of New Zealand's leading figurative painters will feature at the Forrester Gallery.
Three main concerns run through Nigel Brown's art: identity, social justice, and environmental presentation.
Forrester Gallery Director Jane Macknight says, "Brown's work is really exciting. It is very colourful and eye-catching.  The use of the human figure and iconic images engages viewers straight away. Taking the time to read the accompanying text worked into the paintings and thinking about what the works might be saying to us adds another layer of interest and complexity."
Curator of Education Elizabeth King says, "Our wonderlab education space for autumn is based upon this exhibition. We have included objects from the North Otago Museum collection that are depicted in the artist's works – the Edmonds baking powder tin, no. 8 wire, the silver fern, and even a kiwi. Our education programme and self-guided activities explore the use of symbols to represent national identity."
The exhibition is toured by the Aigantighe Art Gallery and includes a printed catalogue with a foreword by the artist:
It is a remarkable thing to grab a paint brush and cover a flat surface. Gradually some image may emerge. Returning to the studio may be less satisfying as you appraise and decide and shape it all to a final conclusion. Paintings for me are living things when they bring ideas to fruition and you are conscious they are hand made with a bit of a struggle overcome.
The exhibition is at the Forrester Gallery from Saturday 1 April until Sunday 28 May 2017. The artist will be talking about his work at an event hosted by the Friends of the Forrester on Saturday 6 May from 6pm.