Whitestone Appliances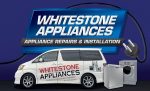 Business Name:
Whitestone Appliances
Long Business Description:
Whitestone Appliances will Repair and Avoid Replacement
If one of your whiteware products breaks down, call Warren Murray at Whitestone Appliances before you decide upon that expensive replacement.
Warren said that an item of whiteware can often be repaired at a very reasonable cost to the owner, thus avoiding an expensive replacement. Unlike some repairers, Warren is not looking to sell you a new one, and will give you an honest assessment about repair or replacement.
Warren started in the business 37 years ago by completing an apprenticeship as an electrician, after which he specialized in electrical appliances with GT Gillies and Smith City.
Over the years he has completed training on many different appliance brands, including Fisher & Paykel, Simpson, and Westinghouse, and now keeps up with today's innovations by using the internet.
He has now started in business himself as Whitestone Appliances, and is trying to make repairs competitive to keep appliances going, and combat the throw away attitude prevalent with today's society and retailers.
As a qualified electrician Warren can install any new appliances that you purchase, if he assesses your old one to be irreparable, or if you simply buy something new, and if you use Warren to install the new appliance, he will dispose of the old one for you.
In addition to repairing appliances Whitestone Appliances will clean and service heat pumps, something that is becoming more common as a heating source. 
Whitestone Appliances operates from Moeraki to Kurow, and Waimate, for seven days a week to accommodate customers that require a weekend visit.
Warren said that he tries to complete repairs on site, but if necessary he brings the appliance back to his workshop for repair. In some cases he is able to supply loan appliances while repairs are completed.
When servicing appliances Warren said that there needed to be an absolute respect for customer's property, because it was easy to damage house fittings when moving appliances, particularly floor vinyl.
Born and bred in North Otago, Warren is committed to the area, and is looking to bring a local and personalized service to North Otago, something that the larger companies sometimes move away from.
If you have a problem with an article of whiteware, or need your heat pump serviced before winter, call Warren.
Washing Machines    Dishwashers    Dryers    Ranges    Fridges    Freezers    & More
37 Years Experience Servicing the North Otago, Kurow, Moeraki,
Waitaki, & South Canterbury Regions.
Send Message to listing owner