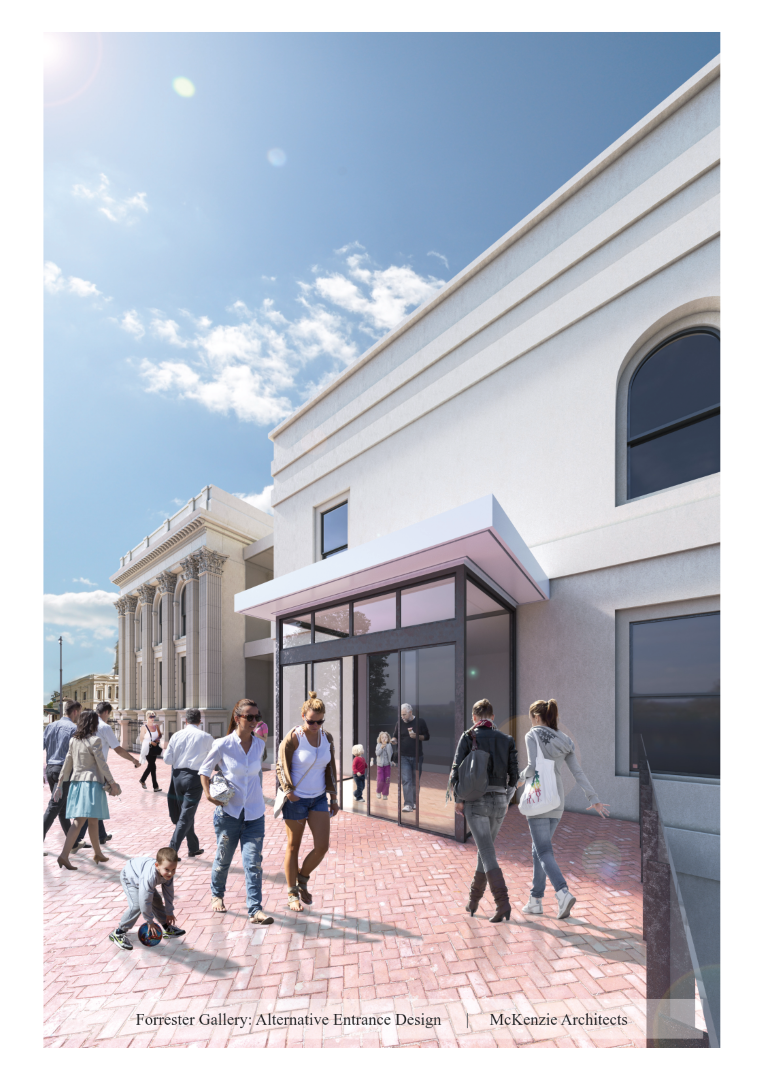 With a specially designed paved area from Thames Street, the proposed entrance to the new cultural facility has been designed to capture the imagination of the public and lead them into the new facility that will showcase Waitaki's heritage and artefacts.
Architect John McKenzie has created the concept drawings showing the proposed entrance leading into the new section of the facility that will be at the rear of the existing Forrester Gallery.
Community Services Group Manager Dr Thunes Cloete says the concept is visually appealing and likely to entice people down the path towards the entrance.
"The architect, John McKenzie, has used special paving that contrasts markedly with the existing footpath designed so that people will pause and follow the path to the new entrance," says Dr Cloete.
"As people are accustomed to entering the current Forrester Gallery from Thames Street it's important that the new entrance, while on a different side of the facility, will enhance visitor's experience.  A great deal of emphasis is being placed on the entrance as this acts as a 'teaser' for people to enter the new facility where they'll experience a vast range of cultural activities."
Should Council approve this design it will also create a gathering point focused around the iconic Forrester Gallery building, the popular Steam Café and the Oamaru Creek and Bridge.  Views and a greater sense of connection with the historic precinct will also be realised.
Discussions are currently underway with Steam Café as they are the most impacted neighbour from this proposal.
Although the associated costs have yet to be determined it is unlikely to impact on ratepayers as external funding is expected to cover the cost.