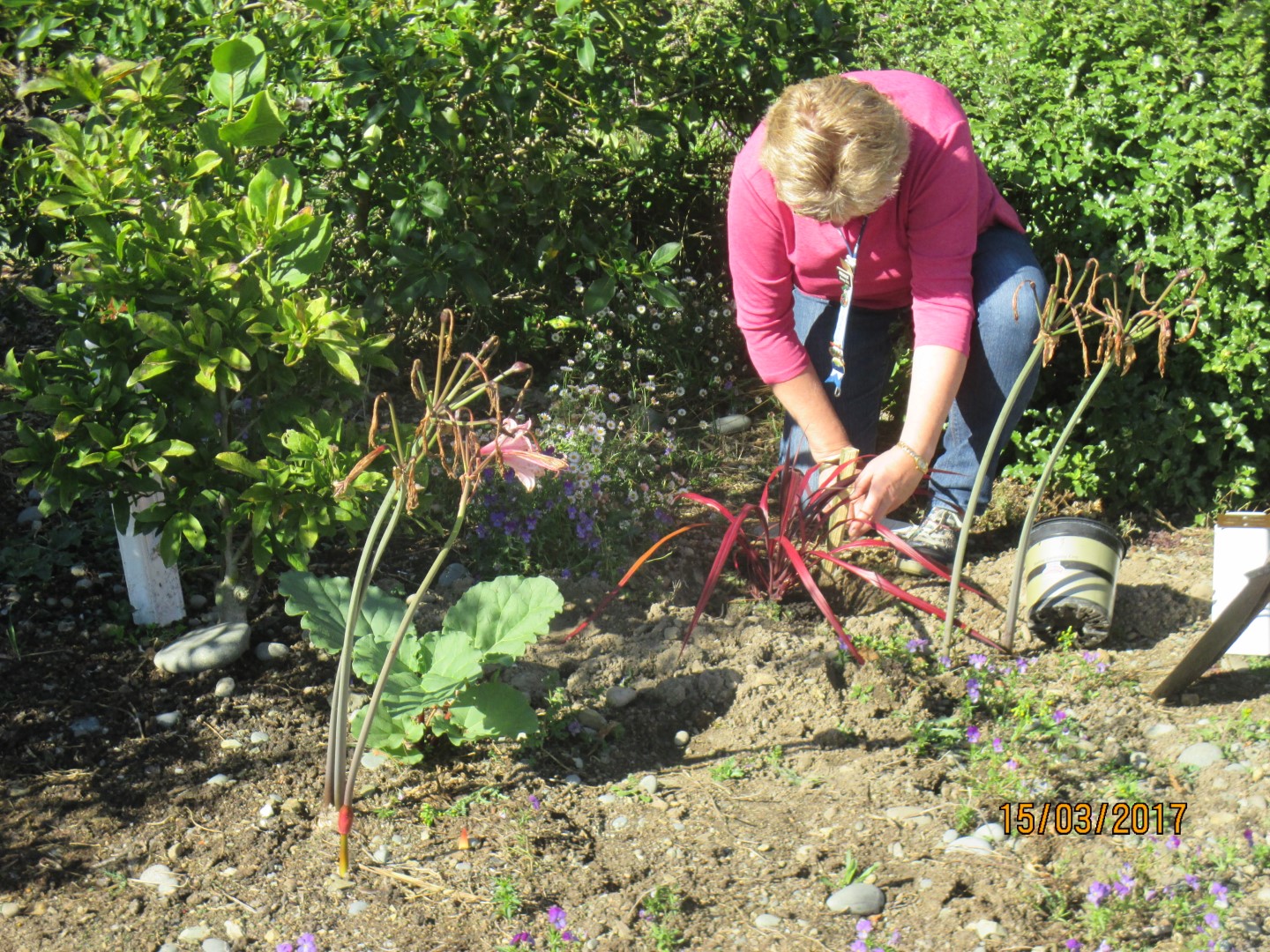 Before the AGM last Wednesday, members met at the Glenavy Hall for plantings in memory of three members – Rita Webster, Pat Jones and Jean Scott. As the plants were being put into the ground, it was nice recalling some of the memories we have of these three members.
Rita's plant was put right beside Winnie McCulloch's one. These two friends usually sat beside each other at our meetings and it was most fitting that their plants are now side by side. A lovely gesture for Pat's plants was that some time ago Pat gave WI member Linda Crossen some irises from her garden and now Linda has given some of those same ones back and so these were planted . Thank you Linda.
Members then headed to the Glenavy church for their annual meeting. Hermien van't Klooster welcomed members and after the Aspirations were repeated, members stood in a minutes silence in memory of those members we have lost through the year. All three had been long serving members of our WI.
Hermien gave a most comprehensive report of our years happenings. When you get the recap of the year, you realise just how busy we have been. It's always good to reflect back and remember the fun times we have had.
Retiring committee members Karen Garaway, Eleanor Greig and Bev Daglish were thanked for their work and presented with a flowering cyclamen.
Hermien has been elected on as President again and committee are Hazel Poole, Sue Koevoert, Sheila Paul, Bev Inch, Margaret Mayson, Caryl Thorn, Glen Billett and Kathy McCulloch.
The AGM was then closed and the ordinary meeting began. Delegates were sorted for the upcoming AGM in April.
Roll call was toiletries which will be donated. Unsure of just where they will be going this time but last year went to the local hospital and Women's Refuge.
Birthdays for the month were Caryl Thorn and Jeanette Read. A bunch of flowers was also given to Glen Billett as her and her husband Alf are to receive a civic award for all they do in the district. Congratulations Glen and Alf – thoroughly deserved by you both.
Through the business side of the meeting and it was then time to break for lunch. A true WI spread and so much good food to choose from.
It was then time for our guest speaker, Hillary Botting to talk to us about Civil Defence. Hillary is the Civil Defence coordinator and has been with the WDC for 4 years.
She pointed out the necessity of good communication. Having helped out with Christchurch and Kaikoura quakes she stressed the importance of everyone communicating through the right channels. An example of this was door knocking – different organisations doing the same thing. So the idea being to liaise with your civil defence person who then liaises with the coordinator.
Emergency shelter is a priority. You need to have a plan so that in an emergency you know what to do and where to go. If you have to move you need to know where you will move to and have that already in place..
In a stressful situation, you thinking can go awry so the more things you have in place the better. Your getaway kit is essential and should also contain important documents such as birth certificates and passports.
Here in NZ the biggest risk is earthquakes and manageability is the hardest. If you are near the coast and a quake lasts for more than one minute you should leave and go to higher ground – even if there is no tsunami.
Hillary was a most interesting and informative speaker and all appreciated what she had to tell
us. Hermien thanked her on our behalf and presented her with some baking.
Competition Results
Card :- 1st Margaret Mayson 2nd Eleanor Greig
Wine Bottle Holder:- 1st Hazel Poole
Placemat:- 1st Margaret Mayson
Socks:- Eleanor Greig