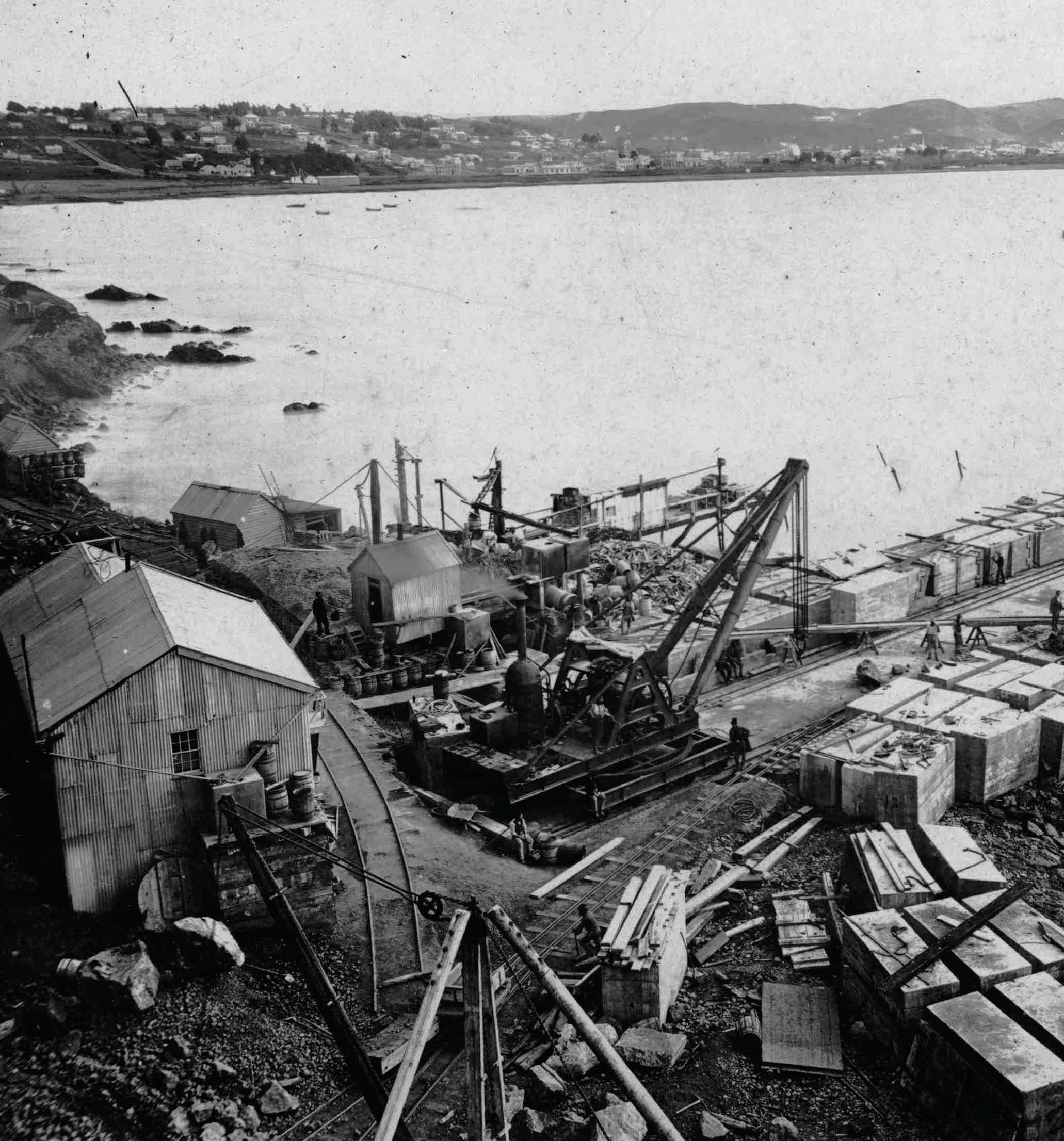 Oamaru Harbour
BREAKWATER
Just the facts!
Made from concrete because there is no suitable construction stone such as granite in NZ, the breakwater is a heritage structure of national civil engineering significance.
Commissioned by a Trust which set out to make a "gated dock" on the opposite beach over by the creek, such as you might have found in England (London/Thames River) at that time, the breakwater was to provide minimum shelter for the work of digging out the dock, but as it progressed it became obvious that the breakwater made a perfectly good harbour and the dock project was abandoned.
Designed by John McGregor, a Scottish harbour engineer, utilising blocks laid leaning against each other like semi-fallen bricks, this design may have been quite innovative and it was also used by Great Britain in the construction of breakwaters at its colonial ports in Africa, India and the Far East. Work commenced 1871 with the manufacture of a concrete mixer and the casting of about five concrete blocks.
The site, which is so easy to get to now, was inaccessible in 1871, being right at the foot of cliffs and on a rocky sea-swept narrow shelf.
The contractors, Walkem & Peyman, first had to build a railway along the rocky shore. This needed blasting out and four small but substantial viaducts. It was a work of some considerable difficulty and storm waves swept over the rail line at high tide. The line (the breakwater line) was operated by NZ Railways using NZR wagons and locomotive for many years after the completion of the breakwater and as the harbour was utilised for intensive shipping of wool, minerals and limestone with grain, flour and general merchandise. RNZ rates were always in contention.
Walkem & Peyman also commissioned a crane for the job. The crane turned out to be the world's largest full-slewing (can go right around like a carousel) steam crane and the concrete mixer was undoubtedly one of the world's first industrial steam-powered mixers and possibly the first large concrete mixer put into continuous work anywhere.
A diver (with helmet and suit and compressor to feed him air) was employed regularly to prepare the sea floor by guiding a type of dredge and suction nozzle to remove the sand and expose the rocky bed.
Gravel for the concrete was harvested off the beach and the concrete was mixed with salt water. The cement came in wooden casks, each weighing 180kg, and a total of around 40,000 casks were used. Every sailing ship that came to
Oamaru from Britain carried some cement, and the supply, budgeting, storage and cost of this English-made cement was a constant nightmare of administration. Disposing of the empty casks was a project of some magnitude in its own right, and there are probably 5,000 casks, filled with rock and dirt, under the penguin colony buildings. Casks in good condition were sold in large quantities.
Walkem & Peyman also won the second phase contract (of four) and built the breakwater out to about half its length. Other contractors made the rest, using the crane and mixer which Walkem and Peyman sold to the new Oamaru Harbour Board when it came into existence in 1874.
The depth of water at the inner end and just a few metres out from the shore, was 4 metres at low tide and out at the end of the breakwater where you can now walk at low tide, it was 6 metres. Large sailing ships and steamers could berth along the whole length of the breakwater before Macandrew Wharf was built. Macandrew wharf is the much broken-up concrete platform on the inside of the breakwater. It is hard to imagine but large ships could easily tie up there and at the wharf which Portside Café is built on.
The harbour was always difficult to keep clear of gravel and sand and when shipping ceased in 1974, dredging stopped and the harbour began to fill.
What you see now is the breakwater as built and then added to (height) in 1887 and 1936 – originally it was just about 1.5 metres above high tide sea level but that was enough to provide the basic shelter that cut the loss of sailing ships (30 were wrecked here before 1873) to zero.
The economic justification for the breakwater and the harbour and their social history is very well told in Gavin McLean's paper. "Nothing to Fear for The Port of Oamaru".
A number of photographs are used courtesy of The Waitaki District Archive, which has encouraged the production of this brochure.
Bruce Comfort 2015