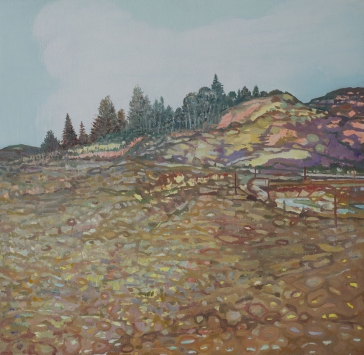 The Forrester Gallery is excited to welcome established artist Grant Whibley to the Forrester Gallery for the first time. Whibley's exhibition The Flea will open to the public on Saturday 5 August and run until Sunday 17 September 2017.
Forrester Gallery Director Jane Macknight says, "I jumped at the opportunity to work with Grant, partly based upon his reputation as an artist but also because he was committed to presenting artworks about Twizel – a place he had come to know since taking up a teaching position there in 2015. It is important for the gallery to show artwork that explores and reflects the identity of our whole district and an outsiders eyes can help us see ourselves differently".
Whibley says about his new works, "The landscapes and large figurative work in this exhibition depict narratives of people's search, set against a backdrop of empty desert spaces. The literary metaphors of desert spirituality and imagery I read about in Beldin C Lane's book The Solace of Fierce Landscapes point to an awakening to God's search in our own hearts".
Whibley is presenting nine new paintings created during his time teaching at Twizel Area School. He is an artist and teacher and has exhibited widely and been the recipient of several awards for his art.
Whibley was born in Tokoroa and raised in Whakatane. In 1997 he was awarded a Master of Fine Arts, with first class honours, from Elam School of Art in Auckland. Since mid-2015 he has been based in the southern alpine town of Twizel, teaching at the Twizel Area School and making work that responds to this place.