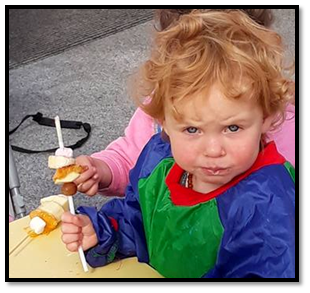 The last few weeks at Weston Playcentre have been very busy! Recently we celebrated Playcentre Awareness Week by joining with both Oamaru and Lower Waitaki Playcentres for a trip to the beach at All Day Bay.
It was great fun meeting the other children and parents and making new friends. We really enjoyed building lots of sandcastles and playing in the water, even though it was rather chilly. We even spotted a leopard seal that was snoozing in the sun and enjoying the beach aswell! Back at Playcentre the children have enjoyed making kebabs with lots of yummy fruit…apples, bananas, grapes, oranges, kiwifruit and a few marshmallows too of course- yummy! We have also been busy gearing up for our Big Wheels Day.
Unfortunately the weather didn't co-operate and it has been postponed until 9th April. Come and join us for what is sure to be a fun-filled (and hopefully sun-filled) day!! If you would like to join in the fun at Weston Playcentre feel free to pop in for 3 FREE VISITS, Tuesday- Friday 9am-11.30am during school term time.